Full Name: Howard Trilby-Lund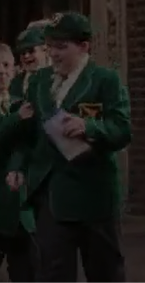 Born: 1977
Blood Status: Muggle
Hair: Dark Brown
Skin: Pale
Family:Dominic Lund
Occupation: Builder
Biography
Edit
Howard Trilby-Lund (b. 1977) was a Muggle builder and student of Greencoats College.
Early Life
Edit
Howard Trilby-Lund was born to Henrietta Trilby and Dominic Lund in 1977. In his youth, he attended Greencoats College, like his father and mother, from 1985 to 1995.
In 1987, he became close friends with Peter Osgoode and the two accompanied one another to the school trip to Surrey Zoo in 1991, on the day of the Boa Constrictor at the Zoo escapade. However, unlike Osgoode, Howard was not a bully to other students at Greencoats.
Later Life
Edit
After graduating from Greencoats, Trilby-Lund quickly became a builder until his retirement in 2032, aged 55.
He still remained in contact with Peter until 2015, when they met up and Trilby-Lund realised Osgoode felt no remorse after the suicide of Daniel Tresham, at which point, he decided it would be best to avoid Osgoode.